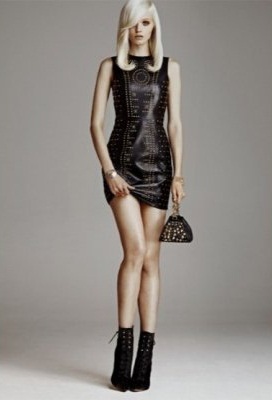 We've Been Waiting for Versace to Make a Move Like This
Many of you may remember when we first announced Versace's collaboration with H&M back in June. Finally, after much anticipation, the Versace clothing collection for H&M will be filling  the shelves in local stores just in time for Holiday shopping.
The women's collection is known to stop traffic with its vibrant colors, studded leathers and loud prints.  Many have said the collection is gaudy and over the top, others have said the collection is genius.  Near 300 stores worldwide will carry the collection starting November 17, 2011. The prices range from $31.00 for funky accessories to $285 for hot leather LBD's.
Photo – Versace Mini for H&M, $283, Versace Lookbook