Tiffany & Co Unveil Windows Designed by Rachel Zoe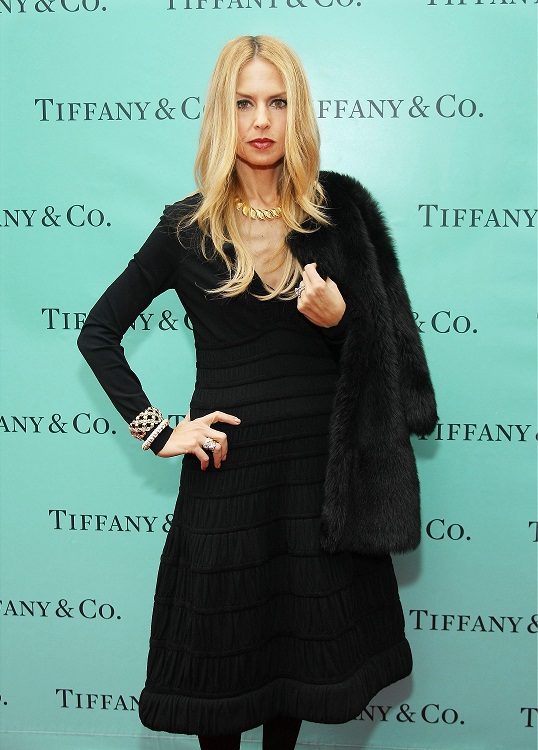 Celebrity stylist and fashion icon, Rachel Zoe, has collaborated with Tiffany & Co by creating five window displays  featuring Tiffany jewels that brilliantly capture the true meaning of glamour in particular decades.  Ms. Zoe's windows are unveiled at Tiffany & Co. flagship stores in New York City, Beverly Hills, Tokyo, Hong Kong, Singapore and London.
"To see my interpretation of glamour and luxury unveiled in Tiffany's windows is an amazing experience," Ms. Zoe said. "Tiffany is one of the most iconic American brands, and I am honored by this wonderful opportunity."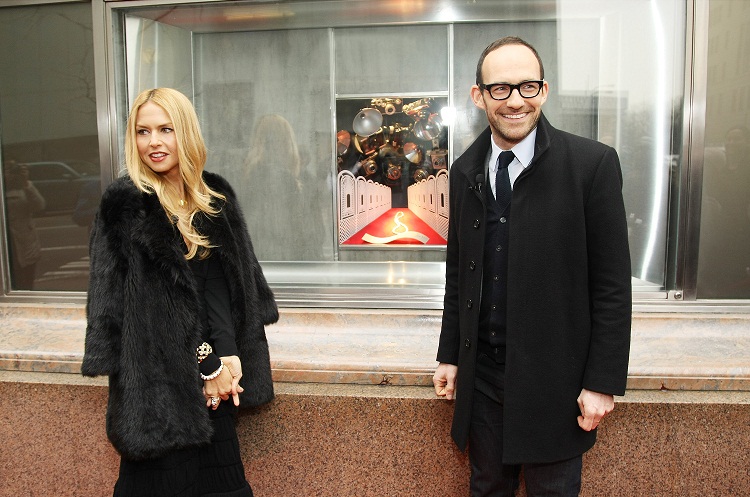 "Rachel Zoe has brought a new level of fashion and style to the red carpet, and she has brought her creative vision to our collaboration," said Richard Moore, Tiffany's vice president of visual merchandising. "She joins a select group of designers and artists including Andy Warhol, who have created displays for Tiffany's windows." In the photo, Moore poses for a photo with Zoe in front of the 1950's window installation.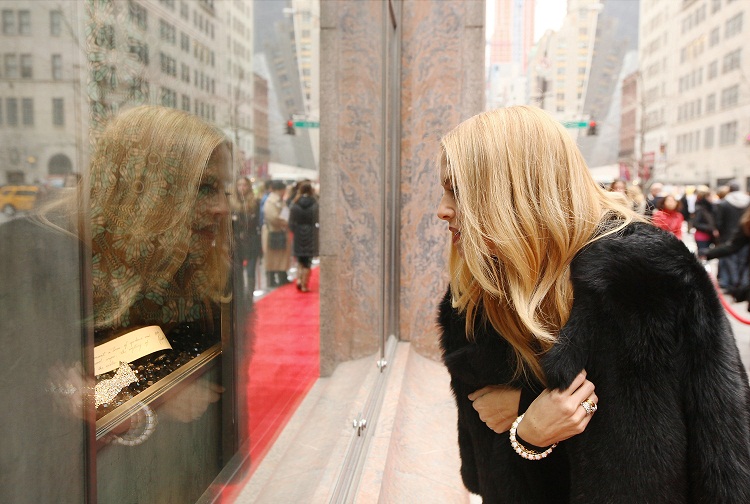 To resemble the classic elegance of the 1930's,  Zoe uses a peacock's feather in the middle of a sea of black glass beads. A lace wall covers frames of Tiffany's diamond and platinum jewels inspired by the Art Deco period. In the photo above, Rachel Zoe peers into the 1930's window at the Tiffany & Co. Fifth Avenue Flagship.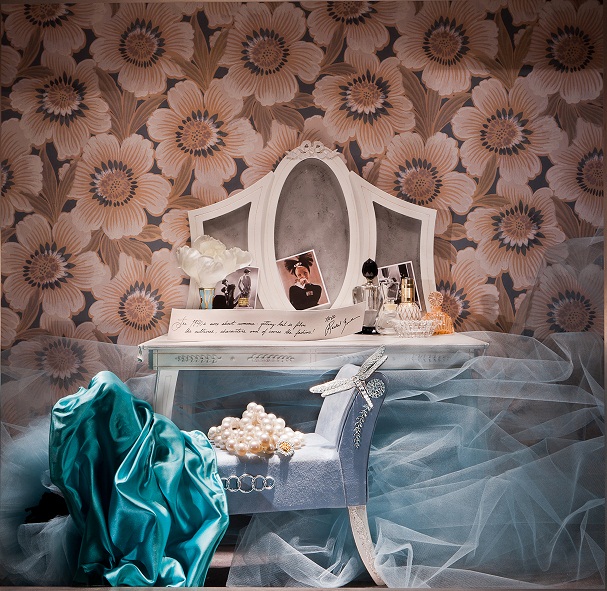 In the 1940's, designers expressed themselves through luxurious fabrics and romantic silhouettes. Zoe captures the mood in this window with flowers on a period vanity, and a wall covering of blossoms. Tiffany diamonds are celebrated with layers of tulle.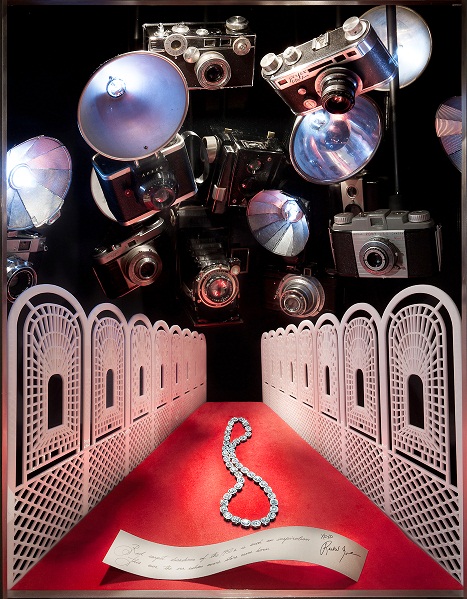 The 1950's is an era of red carpet events and famous images of paparazzi chasing the rich and famous. These bold cameramen  are represented in Zoe's creation by vintage cameras suspended over a red carpet and are aimed at the dazzling Tiffany jewels on such a glamorous display.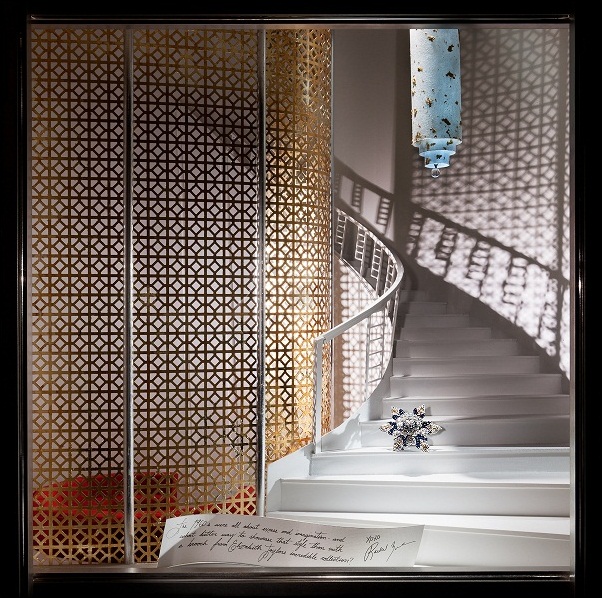 The 1960's window inspires a view of Hollywood homes with an enchanting white staircase. The staircase on display curves around an openwork metal column and ends with the Jean Schlumberger's Fleur de Mer brooch.  This is the first time the jewel has been on display since the jeweler acquired it from the estate of Elizabeth Taylor. The exquisite creation of diamonds and sapphires was a gift from Richard Burton to Elizabeth Taylor in 1965 and is now on display in Tiffany's 5th Avenue window. The brooch has made an appearance before. You may remember it in photographs of Ms. Taylor at the premiere of The Spy Who Came in From the Cold.
The last window was inspired by the 1970's. Tiffany jewelry shines in an eclectic collection of orchids and bamboo with surrounding colors of black and gold. Designs of 18 karat gold embellished with diamonds and gemstones are the main focal point.
Shannon Lazovski
Shannon Lazovski is the CEO of Glamorous Moms LLC, editor and owner of glamorousmoms.com, detroitfashionnews.com, is a MichMoms blogger for the Detroit News and is the founder of Detroit Mom Bloggers; a mom blogger network in the Metro Detroit area. She is a blogger, fashion/beauty/image consultant and a social media community manager. She loves to collect jewelry, handbags and heels (typically the higher the better) and cannot get enough when it comes to the subjects of beauty and fashion.